april 22, 2016 07:15am
Photofusion Crowdfunding
march 23, 2016 09:48am
Photo Stickers
Cool new film photography stickers from our friends at Indy Photo Coach who have plans to add T-shirts and other accessories in the future.

Stickers include:

Go Large Or Go Home
ISO Definition
E6 Love
Agitate This
I Heart C-41
Type 55 Withdrawal


Check it out here:
http://www.indyphotocoach.com/cool-stuff
february 19, 2016 04:45am
NEW! Hyperspeed Direct Positive Paper
Finally, an answer to every pinhole camera enthusiast's dream: a high-speed direct positive paper!

Brand new from Galaxy, following a successful Kickstarter campaign, this entirely new resin-coated paper is fast enough to mimic film shot at 120 ISO and freeze motion in your large format or pinhole camera.

Featuring an embossed glossy surface and fixed grade contrast, Galaxy Hyperspeed is now available in 4x5, 5x7, 8x10, 11x14 and 16x20 sizes.

To develop the paper, Galaxy has released a special kit of Reversal Process chemicals which are specifically designed for Hyperspeed paper.

No more negatives. Every print is unique and complete as soon as it is processed.

Please follow the link below to view sample images.

Purchasing and more info...
august 27, 2015 09:52am
Darkroom Lab Timer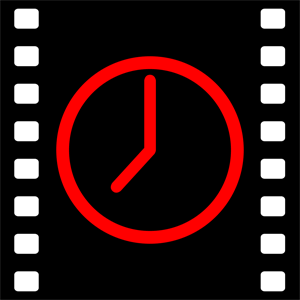 Darkroom Lab Timer is now available for iOS devices from the App Store!

Designed for COLOR processing (C-41, E-6, RA-4) as well as other paper and film development techniques, Darkroom Lab Timer complements the Massive Dev Chart Timer by providing facilities for color darkrooms alongside advanced features for b&w, such as individual step agitation and up to 25 timer phases.

Initially available for iPhone and iPad users, we also hope to release an Android version in late 2015 / early 2016.

More info: Darkroom Lab Timer App
march 02, 2015 10:08am
Silver Magnet
At last, a silver recovery device for small darkrooms!

The Silver Magnet (SMT-20) is a unique patented electronic silver recovery module. Simple to install, the unit can recover up to 30+ troy ounces of 90-95% pure silver. Once full, all you need to do is put the unit into the provided leakproof envelope and send it to the refinery. You will then be sent a check for your silver, at market value, and a new cell, if you requested one.

Installing the Silver Magnet will help maximize the environmental safety of your darkroom while also improving the efficiency of your fixer and making you money... all at the same time!

Click here for more info...
november 24, 2014 07:02am
New CineStill 50 Daylight Xpro Film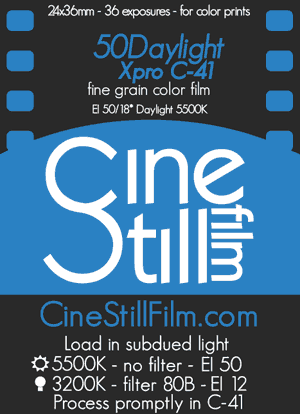 CineStill is a company that produces still image film from original motion picture emulsions. Following on from their original release of 800Tungsten Xpro C-41 film last year, the company launched a Kickstarter campaign that raised almost $120,000 to produce a medium format film, but fell short of the $360,00 they needed. The founders of CineStill, the Brothers Wright, are continuing to work toward the goal of achieving a new 120 roll film for still photographers.

The latest film from CineStill, 50Daylight Xpro C-41, is a 50 ISO daylight-balanced (5500k) 35mm film created from original fresh Kodak 50D stock, a film that Kodak itself claims to be the "the world's finest grain film". As with their previous 800Tungsten stock, CineStill's rem-jet "Premoval" makes this motion picture (ECN2) film safe to process in standard C-41 photo lab machines or at home and is ideal for scanning.

For more info and purchasing options please visit:

CineStill web site
Digitaltruth Photo Store
november 11, 2014 07:46am
RayKo Plastic Camera Show
CALL FOR ENTRIES: RayKo Photo Center's 8th Annual International Juried Plastic Camera Show.

If you shoot with a Holga, Lomo or any other plastic camera, this is a great opportunity to participate in RayKo's largest annual show. The winner receives a $400 prize and the jury will also award four honorable mentions. Entry cost is $30 and allows you to submit up to three images. Additional images can be submitted for $5 each, up to a total of 10 per person.

Exhibition to be held at RayKo Photo Center in San Francisco, March 11 - April 26, 2015.

Open to worldwide participants. Entries restricted to users with plastic cameras using plastic lenses. Submission deadline: January 10th, 2015.

More info: RayKo Photo Center Plastic Camera Show
july 15, 2014 02:07pm
EXCLUSIVE: Caffenol Concoction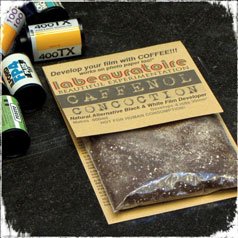 EXCLUSIVE USA DISTRIBUTION: Caffenol Concoction now available to customers in the United States directly from Digitaltruth Photo!

Manufactured by Labeauratoire in Belgium, Caffenol Concoction is a black & white film developer based on eco-friendly household ingredients featuring a special blend of different bottom-shelf instant coffees, washing powder, vitamin C powder, and natural sea salt. Refined over many years of experimentation and tested on dozens of different films with spectacularly unique results!

The concept of "caffenol" is not new in the alternative photography community, its been around for quite a while now and there are many different recipes out there. You might want to try making your own, but if you'd like to use a tried & tested formula for consistent results, Labeauratoire offers the two commonly used sizes for developing tanks: 600ml or 1000ml. Each packet comes with complete instructions for developing your own film at home. Caffenol Concoction is capable of producing very fine-grained negatives with a long tonal range, or quirky results through experimentation. Consider it the Volkswagen Bus of film developers!

For more information please visit:

Exclusive USA distribution: Digitaltruth Photo
European/International distribution: Labeauratoire