Home »
Products
»
Impossible
Impossible Instant Black & White Film - 8x10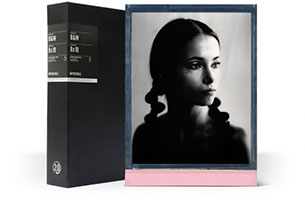 Product Description
Impossible Silver Shade Black and White Film is an integral instant film that uses Impossible Project's Silver Shade material as a base and boasts a film speed of 600 ISO. One pack contains 10 negatives and 10 positives to be shot in an 8x10 camera using the original Polaroid 8x10 holder and processor.

Features

10 exposures per pack
Type: Monochrome Integral Instant Film
Format: 8x10 in.
Finish: Glossy
Development: 5-10 minutes approximately at 70F (21C)
Works with original Polaroid 8 in. x 10 in. cassette and processor (not included)
Refrigerate the film until use
Keep processed images in the dark for 4 minutes
Dry your photos thoroughly, newly processed 8-10 photo consists of a layer of wet developing paste, sandwiched between a negative and a transparent sheet. In this "sealed" configuration, photos can take 3-4 weeks to dry completely and may change during this period. The faster the photo dries, the less the photos will change. To stop further development and stabilize your images, peel the negative and transparent sheet apart to keep your photos truly black and white. Minor shifts in tone during dry down are still possible.
Where to Buy
Info & Data